Riven Republic Series By Harry Wegley Book Review & Promotion By LAWonder10!
While there are so many amazing, outstanding authors in the world, with the political unrest and need for inspiration in the world today, I feel it important to direct individuals and group reading to a series of books written by this great author. I also encourage you to review the previous interviews I have held with this amazing man on my Podcast and my YouTube channel. 
This is a trailer introducing the characters of his latest Riven Republic series. 
In this section of Special Features, I am also summarizing other of his past series, and his upcoming new series addressing the COVID situation throughout the world.
Where does it come from?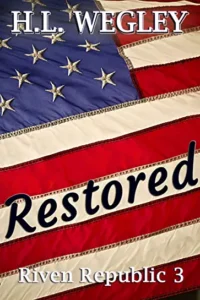 RIVEN REPUBLIC SERIES
From Book 1: America Holds Its Collective Breath Awaiting A Twenty-First-Century Fort Sumpter
As America fractures along geopolitical boundaries—left against right, blue against red—the nation has become a powder keg. The tiniest spark might light the fuse detonating Civil War 2. Zach Tanner, Constitutionalist and radio host, has a growing radio network until Oregon's progressive governor, Sandra Harper, shuts him down. Zach encourages Oregonian Constitutionalists to flee with him to Eastern Oregon to defend families and friends from the coming war. He envisions a powerful radio station broadcasting hope to America.

Kate Alexander, a new Christian and a fan of Zach's radio show, wants to escape to Eastern Oregon, leaving lawless Salem, where her aunt, Governor Sandra Harper, has declared martial law, activated the State Guard, and ordered the police and military to find her beloved niece so Sandra can "fix" Kate and restore her to the most powerful political family in the state.

When Zach begins his broadcasts, progressive president, Wendell Walker, wants Zach and Kate dead. Governor Harper wants Kate returned and rehabilitated. The Constitutionalist's militia wants to keep the two alive. When the three factions collide, can anyone win? If Zach and Kate survive, can they overcome the pain from their past and find a future together in the Divided States of America?

Riven, book 1 of the Riven Republic series, set in Oregon and DC, features a supporting cast comprising several dynamic characters who starred in H. L. Wegley's previous novels.
Amazon ~ 
ABOUT the AUTHOR:
H. L. Wegley served in the US Air Force as an Intelligence Analyst and a Weather Officer. He is a Meteorologist who, while working as a forecaster and a Research Scientist in Atmospheric Physics, published extensively in the scientific literature. After earning an MS in Computer Science, he worked more than two decades as a Systems Programmer at Boeing before retiring in the Seattle area, where he and his wife enjoy small-group ministry, their grandchildren, beach hiking, and where he writes inspirational thrillers and high-action, romantic suspense novels. His Against All Enemies Series won Gold and Silver in the 2017 Readers Favorite Book Awards.