Shadow of Murder Book Tour A Palooza, Audiobook Review of Blast From the Past + Giveaway {Ends 7/1/22}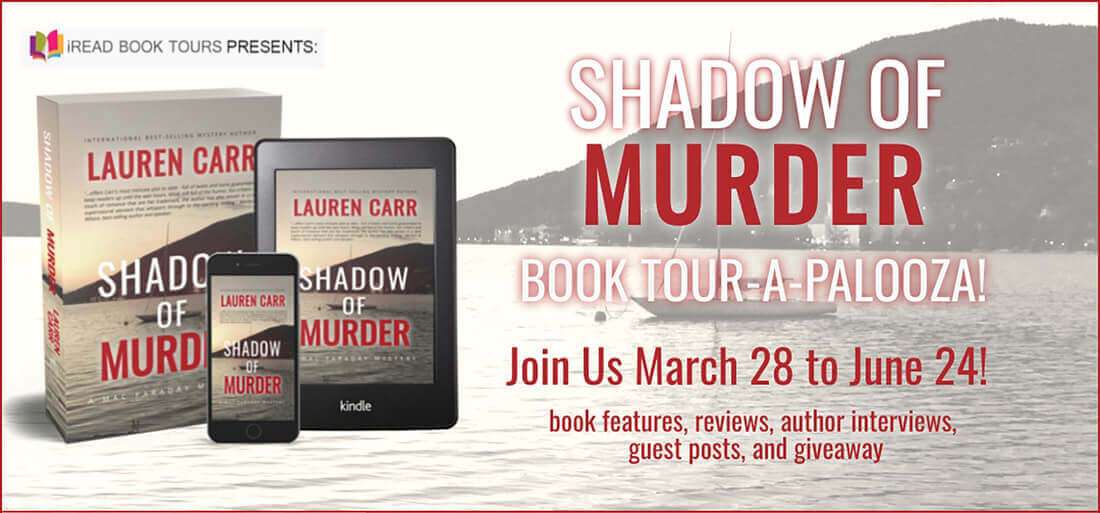 Blast from the Past is a well-developed story full of intrigue that moves at a brisk pace. The characters are interesting, the villains varied, and the action is as quick as the humor. I have a feeling any of Lauren Carr's mysteries would be pleasurable distractions, as well as entertaining. Very Highly Recommended."  Review by Lori L., Softly She Treads
CLICK ON BOOK COVER TO LEARN
Book Details: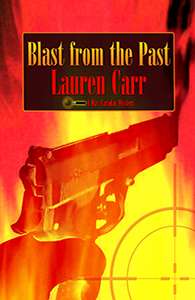 Blast from the Past by Lauren Carr
Series:  A Mac Faraday Mystery (Volume 4)
Category:  Adult fiction (18+), 301 pages
Genre:  Murder Mystery
Publisher:  Acorn Book Services
Release date:  January 2, 2013
Format available: Audible download, ebook (mobi, epub, 
Tour dates:  March 28 to June 24, 2022
Content Rating: PG-13 – Lauren Carr's mysteries are murder mysteries. Sometimes, the murder does happen on-stage. There is no graphic violence or explicit sex. There is some very mild language (hell or damn, very few and far between) No F-Bombs.​
Book Description:
You can't move to the next chapter of your life, without tying up loose ends in the previous.
 
True crime blogger, Erica Hart starts a new chapter in her life with a bang when a dark shadow darts into the mountain road to send her SUV off a cliff and to the bottom of Deep Creek Lake. Spencer's newest addition to the police force, Dusty O'Meara assumes it was a bear. Erica is not so sure.
 
Soon afterwards, contractors discover Konnor Langston's body at the bottom of an abandoned swimming pool at the new summer home of Mac Faraday's son.
 
With Police Chief David O'Callaghan away on paternity leave, Deputy Chief Dusty O'Meara must lead the investigation in his first murder case since moving to Spencer. Not only does Dusty have to work under the shadow of the legendary Mac Faraday, but he also has to match wits with Erica, who is determined to find justice for Konnor, her childhood friend.
 
Mac isn't so difficult. Even Gnarly, the town's canine mayor, is manageable if his authority is well-respected and he is kept entertained.
Erica Hart, Dusty finds, is more of a challenge. It wouldn't be so difficult if she wasn't so irresistible.
REVIEW By LAWonder10:
I listened to 'Blast From the Past' on audible. I Totally enjoyed her story plot. This emphasized the often bluntness of Archie and the protectiveness of Mac even if Archie doesn't think she needs it. mac has his "hands full" in keeping Archie alive in this book of the series. Has she finally gone to far in her boldness? Will mac be able to keep her alive?
The content was fast paced and kept the readers/listeners attention. The characters felt real and the personalities' were diverse and some, endearing. A few times it felt like the book was ending but then went into a different scenario. It was fun!
As much as I loved the constant action and mysteries, Narrator Dan Lawson, almost ruined the book for me. He did a great job with the emphasis and some of the men's "voices" but he really needs help with the women's voices and with his portrayal of two key characters' "voices". They did not come across as confident manly men as their characters are written to be. I hate it when a narrator puts a damper on the story. I admire narrators at the incredible acting ability they accomplish, but like so many variables, the success of the author's books depends on their ability. Therefore, I must rate the Audiobook as a whole Four Stars. The narrator gets Three and a Half Stars and the Book gets Five Stars.
Other Books in the Series:
Meet the Author:
Lauren Carr is the international best-selling author of the Mac Faraday, Lovers in Crime, Thorny Rose, Chris Matheson Cold Case Mysteries, and Nikki Bryant Cozy Mysteries—over twenty-five titles across five fast-paced mystery series filled with twists and turns!
Book reviewers and readers alike rave about how Lauren Carr seamlessly crosses genres to include mystery, suspense, crime fiction, police procedurals, romance, and humor.
The owner of Acorn Book Services, Lauren is also a publishing manager, consultant, and virtual book tour coordinator for independent authors.
Lauren is a popular speaker who has made appearances at schools, youth groups, and on author panels at conventions.
She lives with her husband, and two spoiled rotten German shepherds on a mountain in Harpers Ferry, WV.
Author's links: website  ~  facebook  ~  instagram ~ pinterest ~ bookbub ~ goodreads
Giveaway Details:
Prizes: ​ $50 PayPal Gift Card courtesy of Lauren Carr, author of SHADOW OF MURDER
(Ends July 1)