Shadow of Murder Book Tour-A-Palooza by Lauren Carr – The Murders at Astaire Castle – + Giveaway! {Ends 7/1/22}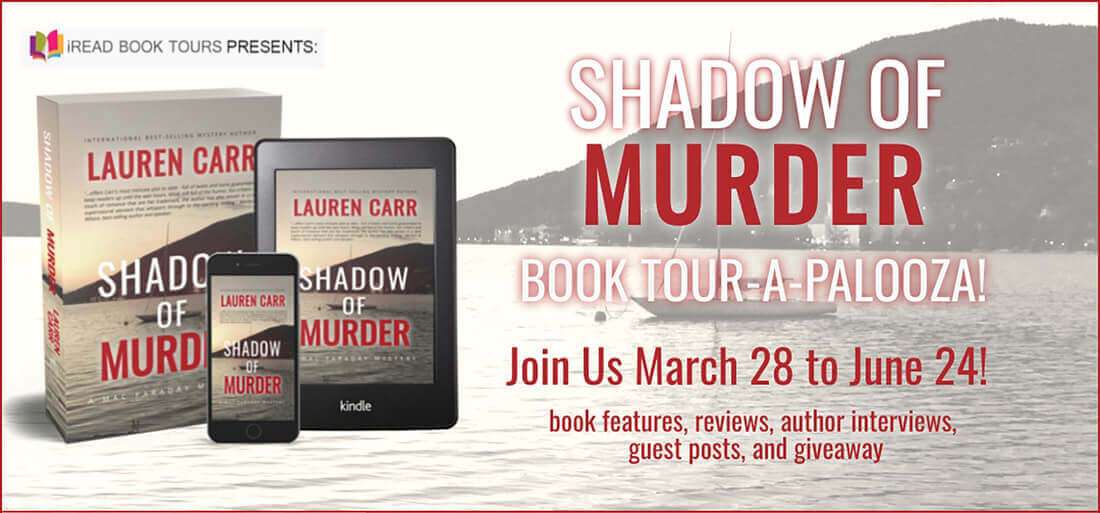 "The Murders at Astaire Castle is a page-turner that resounds with Halloween season chills and thrills, along with plot twists as jagged as the shoreline of Deep Creek Lake." – review by David Kinchen, Huntington News
Book Details:
The Murders at Astaire Castle by Lauren Carr
Series: A Mac Faraday Mystery (Volume 5)
Category: Adult fiction (18+), 281 p ages
Genre: Murder Mystery; Tour dates: March 28 to June 24, 2022
Publisher: Acorn Book Services; Release date: July 18, 2013
Format available: Audible download, ebook (mobi, epub,)
Content Rating: PG-13 – Lauren Carr's mysteries are murder mysteries. Sometimes, the murder does happen on-stage. There is no graphic violence or explicit sex. There is some very mild language (hell or damn, very few and far between) No F-Bombs!
Book Praise:
"So much fun to read!  The castle seemed foreboding. The rumors of the ghost dog, werewolves, and more made more plausible in light of the murders. Is it enough to make even detectives reconsider?  Is it all about the missing book or is the real motive money?" – review by Mystery Suspense Reviews
Buy the Book:   Audible ~ Amazon  ~ B&N ~ BookBub ~Add to Goodreads
Review By LAWonder10:
This is the most eerie, suspenseful book Lauren Carr has written! It was a fun read. as is Lauren Carr's style, it repeatedly fees like the book is ending, but then takes a twist and keeps on going.
Over a decade earlier, after a billionaire author of horror stories, Damien Wagner, builds a castle on the other side of Spencer's mountain, an evil seems to take over the castle. It is believed to be haunted. Later, when millionaire mystery author, Robin Spencer, and Damien's friend, believing it is evil, has the castle boarded up and forgotten. While Mac and David were searching for a missing person with Alzheimer's, David stopped Mac when he turned to go down an unfamiliar road that had ben unused, with growth of tall foliage. Mac was determined to discover what was down the road David forbid him to go. Finally, since Mac insisted on "checking out" the castle, David and Spencer's inn Security guard Hector, insists on going to, not wanting Mac to become another casualty of the castle. This event unfolds a string of events and mysteries associated with past and present murders.
The characters are interesting, diverse, endearing and infuriating. They seem so true to life and they are easy for the reader/listener to connect with. The background scenes are easy to visualize. The Title is very fitting and the cover image is simple, eye-catching and depicts the main theme perfectly
This is a fast paced, captivating book with, a touch of horror, paranormal, romance and a lot of humor and intrigue.
I offer a Five Stars rating for this book.
*This book was gifted me with no pressure to post a positive review. This is my honest review.
Other Books in the Series:
Meet the Author:
 Lauren Carr is the international best-selling author of the Mac Faraday, Lovers in Crime, Thorny Rose, Chris Matheson Cold Case Mysteries, and Nikki Bryant Cozy Mysteries—over twenty-five titles across five fast-paced mystery series filled with twists and turns!
Book reviewers and readers alike rave about how Lauren Carr seamlessly crosses genres to include mystery, suspense, crime fiction, police procedurals, romance, and humor.
The owner of Acorn Book Services, Lauren is also a publishing manager, consultant, and virtual book tour coordinator for independent authors.
Lauren is a popular speaker who has made appearances at schools, youth groups, and on author panels at conventions.
She lives with her husband, and two spoiled rotten German shepherds on a mountain in Harpers Ferry, WV.
Author's Links:  website  ~  facebook  ~  instagram ~ pinterest ~ bookbub ~ goodreads
Giveaway Details:
Prizes: ​ $50 PayPal Gift Card courtesy of Lauren Carr, author of SHADOW OF MURDER
(ends July 1)