Shadow of Murder By Lauren Carr Book Tour A Palooza – Old Loves Die Hard + Giveaway! {Ends 7/1/22}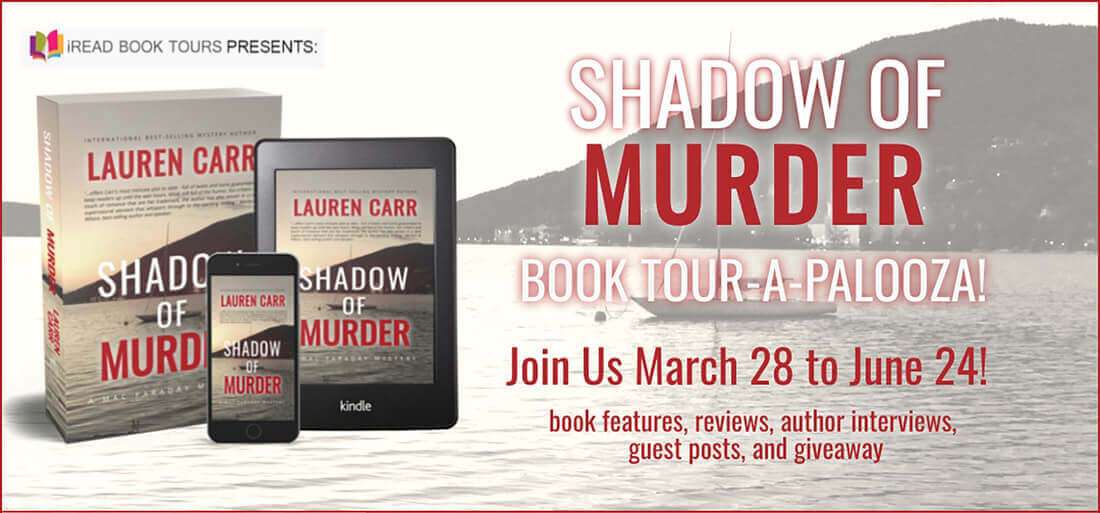 "As in any good who-done-it, there are red herrings and plot complications in Old Loves Die Hard and fans of mysteries and police procedurals will get a kick out of Lauren Carr's books."-review by David M. Kinchen, Huntington News
Book Details:
Old Loves Die Hard by Lauren Carr
Series: A Mac Faraday Mystery (Volume 2)
Category: Adult fiction (18+), 318 pages
Tour dates: March 28 to June 24, 2022
Publisher: Acorn Book Services; Release date: April 23, 2011
Format available: Audible download, ebook (mobi, epub, PDF)
Content Rating: PG-13 – Lauren Carr's mysteries are murder mysteries. Sometimes, the murder does happen on-stage. There is no graphic violence or explicit sex.There is some very mild language (hell or damn, very few and far between) No F-Bombs!
Book Description:
In Old Loves Die Hard, Carr picks up where she left off in It's Murder, My Son. Mac Faraday is settling nicely into his new life at Spencer Manor when his ex-wife Christine shows up—and she wants him back! Before Mac can send her packing, Christine and her estranged lover are murdered in Mac's private penthouse suite at the Spencer Inn, the five-star resort built by his ancestors.
The investigation leads to the discovery of cases files for some of Mac's murder cases in the room of the man responsible for destroying his marriage. Why would his ex-wife's lover come to Spencer to dig into Mac's old cases?
With the help of his new friends on Deep Creek Lake, Mac must use all of his detective skills to clear his name and the Spencer Inn's reputation, before its five-stars—and more bodies—start dropping.

Review By LAWonder10:
Again, this book can be read as a "stand alone" but you will do yourself an injustice if you fail to read the first book in this series, which sets a fun and interesting foundation for the rest of the series, plus the "spin-off " series. Did we say this is the Mac Faraday series? I feel it should be the Gnarly and Mac series. Gnarly, the canine, is definitely a "Star" in this series. He adds so much petulant humor to the series. He is more human than canine. Mac's "dry humor" adds to the effectiveness of this strange partner team.
This second book of the series, begins three years in the past near Washington D.C.. It continues into present day, with Mac Faraday reading one of his birth mother's journals. Mac's and Archie's relationship is slowly becoming more intimate.
Mac's wife had divorced him about a day before Mac discovered his birth mother had made him a multi-millionaire. A few years later, his alcoholic, ex-wife was at his door begging to be forgiven and taken back. This event began an chain of "dropped dead." bodies
There is constant action and increasing mystery. It will keep the reader/listener guessing "Who did it?" until the very end.
The characters are very realistic and varied. The scenes are easily visualized and intriguing. The attractive Cover Images and clever Titles depicting the story content are portrayed on each novel surface.
I listened to the audio version of this book, narrated by James C. Lewis, who did a very good job of narrating. He was very consistent in use of "voices" and in emphases "in all the right places".
I give his performance a Four Stars rating.
This Audiobook was gifted me with no pressure for a positive review. This is my honest review.
The book earns a Five Stars rating.
Other Books in the Series:
Meet the Author:
Lauren Carr is the international best-selling author of the Mac Faraday, Lovers in Crime, Thorny Rose, Chris Matheson Cold Case Mysteries, and Nikki Bryant Cozy Mysteries—over twenty-five titles across five fast-paced mystery series filled with twists and turns!
Book reviewers and readers alike rave about how Lauren Carr seamlessly crosses genres to include mystery, suspense, crime fiction, police procedurals, romance, and humor.
The owner of Acorn Book Services, Lauren is also a publishing manager, consultant, and virtual book tour coordinator for independent authors.
Lauren is a popular speaker who has made appearances at schools, youth groups, and on author panels at conventions.
She lives with her husband, and two spoiled rotten German shepherds on a mountain in Harpers Ferry, WV.
Author's Links: website  ~  facebook  ~  instagram ~ pinterest ~ bookbub ~ goodreads
About the Narrator:
James C. Lewis, an AudioFile Earphones Award winner, is a voice actor in New York City and can also be seen in television commercials. His voice is often heard as a hard-boiled detective, but his work for Tantor covers a wide range. Earlier in his career, he was a TV weatherman and a political reporter. James is originally from Oklahoma.

Giveaway Details:
Prizes: ​ $50 PayPal Gift Card courtesy of Lauren Carr, author of SHADOW OF MURDER (Ends July 1)