A Beautiful Story: Jesus & St. Nick by Sarah French Book Tour, Guest Post & Giveaway! {Ends 10/02/23]
The Christmas season is here, and you once again have to juggle the story of Jesus with good Ole St. Nick…
…but what if you didn't have to?
This beautifully illustrated bedtime story teaches children the story behind St. Nick and how he was a follower of Jesus too! Children will learn about the birth of Jesus, the importance of giving, and the reason for many of our holiday traditions.
Book Details:
A Beautiful Story: Jesus & St. Nick by Sarah French
Category: Children's Non-Fiction (ages 3 to 8), 32 pages
Genre: Children's Book
Publisher: Sarah French
Release date: Sep 2023
Tour dates: Sep 12 to Sep 25
Content Rating: G. Suitable for everyone.
Book Description:
A Beautiful Story: Jesus & St. Nick will quickly become a family favorite. Parents love the values it teaches, and kids love the way it brings the real Christmas story to life! Make this book a Christmas tradition in your household so your kids will grow up understanding why we celebrate Christmas with certain traditions today. And don't worry! We don't give away any holiday secrets!
Add to Goodreads ~
Buy the Book:  (available for pre-order)
Amazon ~ B&N
Review By LAWonder10:
This story definitely separates Christ from Santa. It is similar to what I taught our children while they were growing up and what I have been teaching my grandchildren.  I have also read a very good one by Sherrrill S. Cannon that is more for Pre-School-age. However, this story is even better than what I taught my family!
This is simple, thorough, and beautifully illustrated. Illustrations done by Robert Saber are filled with expression and color. Even though my personal preferences are brighter, crisper colors and more realism rather than somewhat abstract illustrations, they are still very well done.
The hardbound book I was gifted ai very well made with quality cover and paper. The Cover is very attrative and eye-catching.
This would be good for older toddlers but best for elementary-age students. It is slightly "wordy" for most toddlers.
I offer a Five Stars rating for this book.
This book was gifted me with no pressure to post a positive review. This is my honest review.
Looking for a needle in a haystack

.
I love learning about the history of holidays. Why do we have certain family traditions? As a journalist, I've always wanted to know the why and the meaning behind what we do as a family.
As a Christian, I wanted my kids to know that Jesus was the reason for the Christmas season. But I also have wonderful childhood memories of St. Nick. We always called my grandmother Mrs. Claus. She had a huge Santa collection and left her Christmas tree up year-round!
Sadly, she passed away this year, but she was right there with me from the very beginning of this book. I dedicated the book to her. She always made Christmas so magical.
Years ago, I began to search for a book for my children that told the Christmas story of Jesus' birth but also incorporated the true story of St. Nick. I couldn't find it. It was like looking for a needle in a haystack. I found books on Jesus and books on Santa, but not both. So I wrote one myself for my children and would read it to them at Christmas. This was before I even thought about turning it into an official children's book for everyone else to read as well. I wanted my kids to understand the true meaning of Christmas how St. Nick was a follower of Jesus too—and how we can all be like Santa this time of year. I didn't want to give away any Christmas secrets either that way any family (no matter how you celebrate) could utilize this book. It's meant to be educational for the kids. I hope other families read this book every year like we have, and make it a family tradition too!
Meet the Author:
Sarah French is a three-time Emmy Award-winning journalist. She is a broadcast news anchor for the NBC affiliate, WCNC Charlotte.
Sarah joined WCNC from WHDH in Boston, MA. She was the morning anchor there and joined the team in 2011. She was also the host of What's Cooking, How to Help, and Backstage in Boston. Prior to WHDH, Sarah was the morning anchor at WTIC in Hartford, CT. Sarah began her career as a reporter for KOMU in Columbia, MO.
Sarah brings rich experience covering major world events. She was on the ground covering the Boston Marathon bombing, the destructive aftermath of the 2010 earthquake in Haiti, and the 2008 Olympic Games in Beijing, China. She holds three prestigious Emmy Awards. She also received the "Speak for Thyself Award" honoring community advocates and non-profit leaders, as well as Boston's Most Exceptional Women Honoree.
Sarah is an inspirational champion for several notable causes, including the Make-A-Wish Foundation and the Susan G. Komen Foundation. She is also an advocate for domestic violence victims. After the tragic death of her friend and colleague, Alice Morrin, Sarah worked tirelessly with Connecticut legislators to pass a 911 texting bill after Alice's death.
Sarah is a graduate of the University of Missouri School of Journalism. In 2021, she went back to school and earned her Master of Journalism degree. After covering the Boston Marathon bombing, Sarah decided her research would focus on how to help journalists who cover traumatic events.
​Sarah is a member of the Cherokee Nation. She grew up in Arkansas and lives in Charlotte with her husband and two kids. They also have two dogs, Buddy and Teddy! Sarah is a huge fan of the theater and enjoys spending her free time with her family. Sarah also volunteers in the children's ministry of her church.
Connect with author: website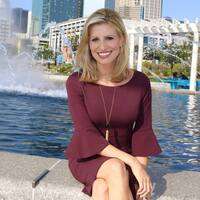 Giveaway Details:
Win signed copy of A Beautiful Story: Jesus & St. Nick by Sarah French (one winner) (USA only) (ends Oct 2)
To Enter the Giveaway click on the Rafflecopter link below: