Grady Whill and the Templeton Codex by Carole P. Roman Book Tour, Audiobook Review, & Giveaway! {Ends 12/5/22}
"Carole P. Roman has created a world that is unique, inhabited by characters that young people can easily relate to because of their similar concerns about growing pains… This book has a strong message and theme that deserves to be read." Reviewed by Vincent Dublado for Reader's Favorite​
Book Details:
Grady Whill and the Templeton Codex by Carole P. Roman
Category: Young-Adult Fiction (18 +), 286 pages
Genre: Action-Adventure/Fantasy
Publisher: Chelshire
Release date: July 30 2022
Tour dates: Nov 7 to Dec 2, 2022
Content Rating: PG. The author thinks the book is G-rated. A reviewer said it had some curses. Some may consider "Holy crap" is a curse.
Book Description:
Templeton Academy- the superhero high school is finally open! The prestigious institution is recruiting the best of the best to enroll in its student body. The school is as mysterious as it is exclusive.
Grady Whill thinks there is nothing special about him to make the grade. However, his best friend, Aarush Patel has been selected and thinks Grady has the right stuff. Even school bully Elwood Bledsoe is attending.
​If Grady is fortunate enough to be picked, his guardian has forbidden him to attend. Will a family secret prevent Grady from becoming the superhero he was destined to be?
~ Add to Goodreads ~ Buy the Book: Audible ~ Amazon ~ B&N ~ BookBub ~
Review By LAWonder10:
Grady was orphaned at a very young age with the death of his parents. His paternal grandparents raised him in his early years when both of his grandparents died and now he was the ward of his young uncle Leo, who was barely past his teens himself. Leo was good to Grady who made many sacrifices to take over the role of parenting,  but they had a faulty relationship. 
Grady's best friend, Aarush, was autistic but a perfect friend for Grady. Grady's former friend, Elmo,  had become the Middle School bully. Of course, Aarush and Grady were objects of Elmo's bullying. Now, they were finishing Middle School
The prestigious Templeton Academy- the superhero high school had very limited acceptance. Only the most unique and highly intelligent students were accepted. Arush would easily get accepted and he insisted that Grady apply also. Grady was not unique or special. Besides, his uncle assured him they could never afford it. He mostly resigned himself to the fact he'd probably be left behind in a mediocre high school, while his best friend moved on to the academy. How could he possibly get into the same prestigious Academy?
The Prologue was a little disconcerting to me. I felt this was not going to be that great of a book. However, as it continued on, it grew in quality and adventure. It addressed so many real problems that are faced by youth. It was very realistic in a "superhuman" way.
The traumas and actions continued to build as mysteries unfolded. There were a few surprises.
The characters were well-defined and realistic. The scenes were portrayed quite well. Most were easily visualized.
Although this is a fantasy that has been compared to the Harry Potter series, I feel this is a much better and more realistic series.
Narrator Dan McGowan did a very good job of narrating. He had the energy, was quite consistent with the "voices" and emphasized in all the right places which enhanced the story.
Because of the prologue and a few scenes toward the end of the story that I couldn't connect with I cannot give it a full Five Stars rating. However, I do give it a Four and a Half Stars rating.
**This audiobook was gifted to me with no pressure to post a positive review. This is my honest review.
Book Details: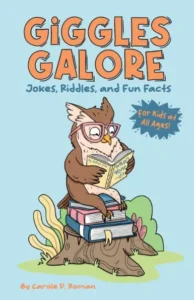 Giggles Galore Jokes, Riddles and Fun Facts for Kids of all Ages by Carole P. Roman
Category: Children's Fiction , 170 pages
Genre: Humor
Publisher: Chelshire
Release date: August 2022
Tour dates: Nov 7 to Dec 2, 2022
Content Rating: G.
Book Description:
What's more fun than a rainy afternoon?
A rainy afternoon with Giggles Galore!
Treat yourself and your child to this fun-filled book of jokes, riddles, and exciting bits of information.
Entertain your friends and family with a wide variety of jokes that include funny foods, animal antics, jolly jungles, farcical farms, dizzy dinosaurs, hilarious holidays, and a host of humor from all over our wacky world.
Fun facts are sprinkled throughout the book and give a welcome relief from all the giggles.
There's even a section where budding comedians can learn to create new jokes.
Lastly, join Carole P. Roman's beloved character, Susanna Maya Logan, for a short story about why we must use humor wisely, or it may not be considered funny by everyone.
A great tool to help a reluctant reader, Giggles Galore is the perfect way to practice social skills and develop friendships.
Buy the Book: Amazon ~ B&N ~ 
Meet the Author:
Carole P. Roman is the award-winning author of over fifty children's books. Whether it's pirates, princesses, spies, or discovering the world around us, her books have enchanted educators, parents, and her diverse audience of children of all ages.
Her best-selling book, The Big Book of Silly Jokes for Kids: 800+ Jokes! has reached number one on Amazon in March of 2020 and has remained in the top 200 books since then.
She published Mindfulness for Kids with J. Robin Albertson-Wren.
Carole has co-authored two self-help books. Navigating Indieworld: A Beginners Guide to Self-Publishing and Marketing with Julie A. Gerber, and Marketing Indieworld with both Julie A. Gerber and Angela Hausman.
Roman is the CEO of a global transportation company, as well as a practicing medium.
She also writes adult fiction under the name Brit Lunden and has created an anthology of the mythical town of Bulwark, Georgia with a group of indie authors.
Writing is her passion and one of her favorite pastimes. Roman reinvents herself frequently, and her family calls her the 'mother of reinvention.' She resides on Long Island, near her children and grandchildren.
Connect with the author: website ~ twitter ~ facebook ~ bookbub ~ goodreads
Giveaway Details:
Grand Prize: $100 Amazon Gift Card or a signed copy of GRADY WHILL AND THE TEMPLETON CODEX (10 winners / USA only) (ends Dec 5)
To Enter the Giveaway click on the Rafflecopter link below: