Lifeline to a Soul by John K. McLaughlin Book Tour, Guest Post & Giveaway! [Ends 5/12/23}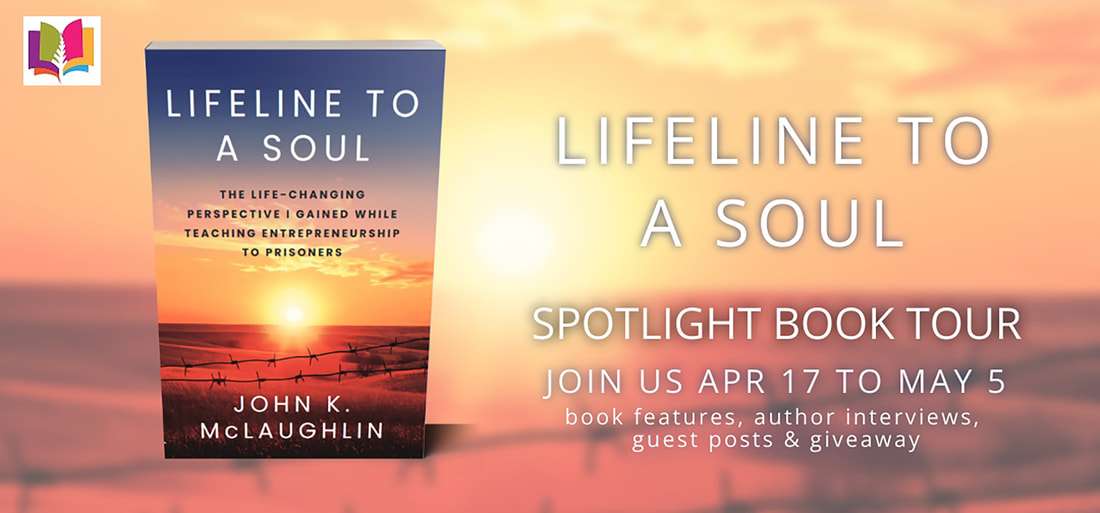 Book Details:
Lifeline to a Soul by John K. McLaughlin
Category: Adult Non-Fiction (18+), 234 pages
Genre: Memoir
Publisher: Lifeline Education Connection
Release date: April, 2023
Tour dates: Apr 17 to May 5, 2023
Content Rating: PG + M
Book Description:
Lifeline to a Soul takes the reader inside the fence and chronicles the victories and challenges one man faced as a first-time teacher in the strange world of prison life.
Add to Goodreads ~ BUY THE BOOK:
Amazon ~ B&N
What I Learned In Prison
The opportunity to teach entrepreneurship at a minimum security prison presented itself to me at a time when I was trying to make a career change. I had spent the past twenty-five years as the owner-operator of the business my father and I founded and was ready to take a step away from the day-to-day grind of running a small business and pivot towards what I thought would be less demanding and more rewarding: teaching the basics of starting and running a small business to prospective small business owners.

I didn't set out to be a prison instructor, but after years of seeking a teaching position with community colleges, there was no way I was going to turn the job offer down. I knew that teaching the principles of entrepreneurship to men who were about to be released from prison would be a tremendous challenge, but the concept made sense to me. These guys now had a felony on their record which would make finding a job on the outside difficult, but would not hinder their efforts to start and run their own business. I quickly learned that a lot of my students had learned basic business skills from street hustling, and I figured all I had to do was show them how to play within legal boundaries and provide examples of the discipline needed to make it as a small business owner.

I had never been in a prison before and what I told my class on my first day there was truer than I could have imagined when I said it, "I'm going to learn a lot more from you than you could possibly learn from me".

My big lesson was that a lot of my students were starving for the educational resources they needed to make some positive changes in their lives. The prison had a twelve-step group for recovering addicts, a library with a limited paperback book selection, a class that taught men the principles of commercial cleaning, and my entrepreneurship class. Unless they were able to get someone on the outside to send them books, these were all the tools that were made available to the incarcerated by the prison system.

Our criminal justice system focuses on punishment, not reform, and the result is a high rate of recidivism that costs the taxpayers considerably more than it would to provide some form of basic instruction to inmates, specifically in the area of personal finance. Research shows that inmates who participate in correctional education programs reduce their changes of returning to prison by forty-three percent. A dollar spent on prison education programs saves between four and five dollars that would go toward future incarceration. That's a rate of return that should get everyone's attention.

But we are not just talking about saving tax dollars. Education can provide a path to a new life for people who are ready to make the change and can break the cycle of incarceration that I witnessed time and time again in my stint as a prison teacher..
Meet the Author:
John McLaughlin spent half his life bootstrapping his start-up business to an industry leader. His desire to teach what he spent his career learning led him on a remarkable journey through the gates of a minimum-security prison where he taught entrepreneurship for almost three years. John has an MBA, a teaching certificate, and a marketing management certificate from Harvard Extension University. John enjoys riding a tandem bicycle with his wonderful wife, Reba on the greenways of Charlotte, North Carolina where they live with two extremely spoiled cats, Moe and Joe. You can learn more about John's current teaching program at: https://www.lifelinetoasoul.com/
Connect to the author: website
Giveaway Details:
$25 Starbucks Gift Card courtesy of the author of

LIFELINE

TO A

SOUL

(one winners) (USA only) (ends May 12
To Enter the Giveaway click on the Rafflecopter link below: