MOTHER KNOWS WORST by Sofia Bella Roma Book Tour, Guest Post & Giveaway! {Ends 5/19/23}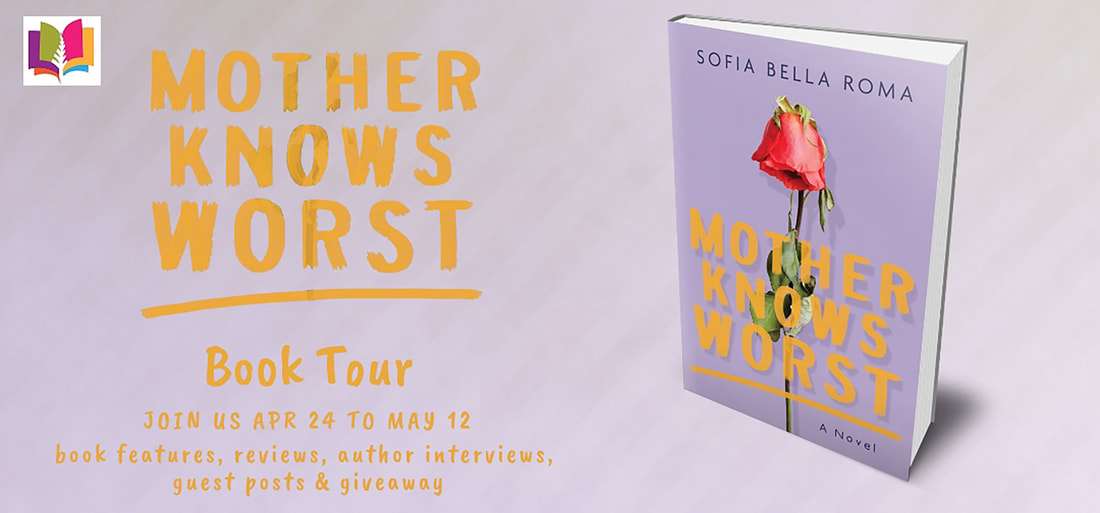 "A lively, thought-provoking journey into one young woman's marriage, cross-cultural encounters, and life. Mother Knows Worst is recommended not just for novel readers seeking stories of women's experiences, but for reading groups interested in the psychological entanglements between different cultures and generations." – Reviewed by Midwest Book Reviews
Book Details:
Mother Knows Worst by Sofia Bella Roma
Category: Adult Fiction (18+), 280 pages
Genre: Literary Fiction, Novel
Publisher: Mascot Books
Release date: December 2022
Tour dates: Apr 24 to May 12, 2023
Content Rating: PG -13
Book Description:
After trying her hand at acting, Rose decides to change career paths and enter law school.
She enrolls in law school in a sleepy New England town, only to find that the practice of law is not all she will study. This quirky thirty-something Italian girl falls in love when she lays eyes on Anil, a handsome intellectual from India. The two discover a deep connection and quickly begin a romantic relationship. What could go wrong as their romance blossoms? Their future looks bright. They have each other. They have great friends. They also have Anil's mother. Inspired by true events, Mother Knows Worst is a humorous and heartfelt novel. Rose is on a path to finding herself, love, and relationships, taking the reader on a delightful and often comedic journey as she explores two cultural worlds colliding.
Add to Goodreads ~ BUY THE BOOK: B&N ~ ​Mascot Books ~ Amazon ~ 
Review By LAWonder10:
Rose wanted to be an actress but she was soon convinced this was not her strength so became a lawyer instead.
While in law school she became friends with a few people on campus and off campus. Her main interest was Anil, n American with parents who immigrated from India. As Anil and Rose's relationship developed, so did the challenges.
This is an interesting story, based on facts. Amy sought out the aid of a therapist to whom she reveals her whole story to. It is a story of emotional, and moral changes. Neither party in this relationship is faultless. Both key individuals were raised in dysfunctional homes. Both had mental issues.
This has a few key points which would be great for discussion.
The characters were defined well and felt as real as they are. The scenes needed to be described with more depth. The Title and Cover image were chosen in an okay manner.
The ending was weak with a cliffhanger.
*Reader Beware: There were a few words of profanity and many "F-Bombs", and other crude language.
I offer a Three and a Half Stars rating..
**This book was gifted me with no pressure to post a positive review. This is my honest review.
The Fear of Writing a Novel Based on a True Story
The biggest fear about writing a novel based on a true story is the risk of inaccuracies, misunderstandings, or misrepresentations. When writing the novel Mother Knows Worst, which is based on a true story, I had to ensure that I did extensive research and fact-checking to avoid presenting false information. I also was careful not to infringe on the privacy of real-life individuals who may have been represented in the book.

Another fear is the possibility of offending or hurting the real-life people who are part of the story. I had to be sensitive to the feelings of the people involved and ensure that their portrayal is respectful and accurate, which was tough because of the story. I did not want to defame any individual and that was a huge consideration. Instead, I wanted to give a heartwarming story about the challenges of two cultures colliding.

I was concerned about the reception of the book by the public and how it would be received by those familiar with the true story. I was concerned about criticism or backlash if readers feel that the book does not accurately represent the true events or if they feel that I had taken liberties with the story for dramatic effect.
Meet the Author:
Sofia Bella Roma is a lawyer in North Carolina. She has been practicing law since 2009. She was first licensed to practice law in Massachusetts and then went on to become licensed attorney in North Carolina. Sofia has spent most of her career telling stories. She regularly performs to judges when litigating her cases. Mother Knows Worst is Sofia's debut novel. This book tackles common problems in relationships and takes on mother-in-law drama with a quirky point of view. Sofia knows firsthand about difficult relationships since she has been practicing law as a divorce attorney. She currently lives with her son and their pet lizard. She has a love for the arts and enjoys making people laugh.
The Tour Schedule :
​April 24 – Cover Lover Book Review– book spotlight / giveaway
April 24 – Splashes of Joy – book review / giveaway
April 25 – Authors on iTours: Let's Talk Books! – book review
​April 25 – Rockin Book Reviews – book review / guest post / giveaway
April 26 – Leanne Bookstagram – book review / giveaway
April 26 – My Reading Getaway – book review / giveaway
April 27 – The Adventures of a Traveler's Wife – book review / giveaway
April 28 – Welcome TO MLM Opinion's Reviews – book review / giveaway
April 28 – Stephanie Jane – book spotlight / author interview / giveaway
May 1 – Liese's Blog – book spotlight
May 1 – Just Another Reader – book review
May 2 – Pick a Good Book – book spotlight / giveaway
May 2 – Paws.Read.Repeat – book review / giveaway
May 3 – FUONLYKNEW – book spotlight / guest post / giveaway
May 3 – Sandra's Book Club – book review / giveaway
May 3 – Books are a Blessing – book review / giveaway
May 3 – Readers Muse – book review
May 4 – @bookqueenbee – book review/ author interview / giveaway
May 4 – The Obsessed Reader – book review / giveaway
May 5 – fundinmental – book spotlight / giveaway
May 5 – @chaoshappinessbookmama – book review
May 9 – Locks, Hooks and Books – book review / giveaway
May 9 – Books With a Chance – book review / author interview / giveaway
May 10 – Gina Rae Mitchell – book review / guest post / giveaway
May 10 – Diane's Book Journal – book spotlight
May 10 – mamof9 – book spotlight
May 11 – Leels Loves Books – book review / giveaway
May 11 – Book Corner News and Reviews – book review / giveaway
May 11 – Books for Books – book spotlight
May 12 – Sue's Musings – book review / giveaway
May 12 – Adventurous Jessy – book review / giveaway
Giveaway Details:
Win signed copy of MOTHER KNOWS WORST by Sofia Bella Roma (one winner) (USA only) (ends May 19)