Shadow of Murder Book Tour-a-Palooza & Giveaway – Candidate for Murder by Lauren Carr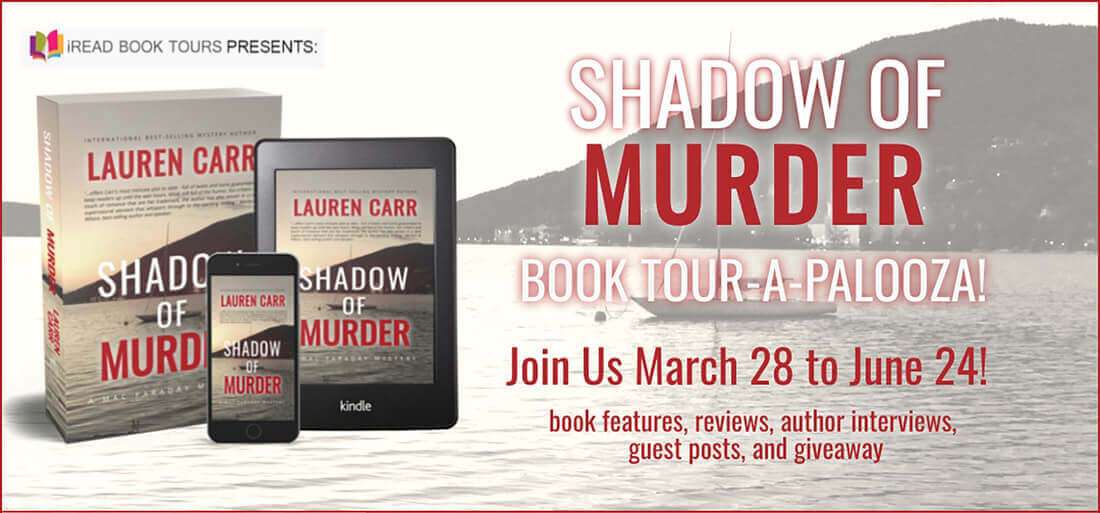 Candidate for Murder is the 12th Volume of the Mac Faraday Murder Mysteries by Lauren Carr!
"OMG!!! The best Mac Faraday…yet. Lauren Carr is a master storyteller who combines the humor of Janet Evanovich and the investigative skills of Patricia Cornwell. She is always at the top of my reading list." – review by Sherry Fundin, Fundinmental, As Eye See It
Book Details:
Book Title: Candidate for Murder by Lauren Carr
Series: A Mac Faraday Mystery (Volume 12)
Category: Adult fiction (18+), 410 pages
Genre: Murder Mystery
Publisher: Acorn Book Services
Release date: June 16, 2016
Format available for review: Audible download, ebook (mobi, epub, PDF)
Tour dates: March 28 to June 24, 2022
Content Rating: PG-13 – Lauren Carr's mysteries are murder mysteries. Sometimes, the murder does happen on-stage. There is no graphic violence or explicit sex.There is some very mild language (hell or damn, very few and far between) No F-Bombs!

Click the Book Cover to learn more!
Book Description:
It's election time in Spencer, Maryland, and the race for mayor is not a pretty one. In recent years, the small resort town has become divided between the local year-round residents who have enjoyed their rural way of life and the city dwellers moving into their mansions, taking over the town council, and proceeding to turn Deep Creek Lake into a closed gate community—complete with a host of regulations for everything from speed limits to clotheslines.
When the political parties force-feed two unsavory mayoral nominees on the town residents, Police Chief David O'Callaghan decides to make a statement—by nominating Gnarly, Mac Faraday's German shepherd, to run as mayor of Spencer!
What starts out as a joke turns into a disaster when overnight Gnarly becomes the front-runner—at which point his political enemies take a page straight out of Politics 101. What do you do when you're behind in a race? Dig up dirt on the front-runner, of course.
Seemingly, someone is not content to rest with simply embarrassing the front-runner by publicizing his dishonorable discharge from the United States Army but to throw in a murder for good measure.
With murder on the ballot, Mac Faraday and the gang—including old friends from past cases—dive in to clear Gnarly's name, catch a killer, and save Spencer!
​​Buy the Book:  
Audible ~ Amazon B&N ~ BookBub
Add to Goodreads
Review By LAWonder10:
Gnarly is the star of this show! Gnarly's candidacy has arrived and the poles has Gnarly in the lead. The other two candidates are Outraged!
Mac's newly married daughter Jessica is awaiting continued bliss when her Phantom husband, Murphy, returns from a mission.
Mac, David, and significant others are faced with the campaign dilemmas. People directly and indirectly related to the campaign are dropping like flies.
Undeterred by all the drama, Gnarly's local "Volunteer" campaign managers continue to promote Gnarly as Mayor.
This is one of the most hilarious of all of Lauren Carr's Mac Faraday's Mystery Series. It also introduces key characters of the upcoming Cold Case Mystery series.
As always there are different scenarios going on at once and the reader can hardly wait to read the next page.
I give this book 5 Star Rating!
*This book was gifted me with no pressure to post a positive review. This is my honest review.
Other Books in the Series:
Praise for Candidate for Murder:
"OMG! Carr is over the top and giving us an easy "10"  with her latest, Candidate for Murder!…Don't just sit there thinking that this might be the book to try for Lauren Carr! I'm telling you right now it's a must-read for daring, adventure, crime-busting, high-level government criminal elimination." – reviewer by Glenda Bixler, Book Readers Heaven
Meet the Author:
Lauren Carr is the international best-selling author of the Mac Faraday, Lovers in Crime, Thorny Rose, Chris Matheson Cold Case Mysteries, and Nikki Bryant Cozy Mysteries—over twenty-five titles across five fast-paced mystery series filled with twists and turns!
Book reviewers and readers alike rave about how Lauren Carr seamlessly crosses genres to include mystery, suspense, crime fiction, police procedurals, romance, and humor. 
The owner of Acorn Book Services, Lauren is also a publishing manager, consultant, and virtual book tour coordinator for independent authors.  
Lauren is a popular speaker who has made appearances at schools, youth groups, and on author panels at conventions. 
She lives with her husband, and two spoiled rotten German shepherds on a mountain in Harpers Ferry, WV. 
connect with the author:
website  ~  facebook  ~  instagram pinterest ~ bookbub ~ goodreads
Giveaway Details:
Prizes: ​ $50 PayPal Gift Card courtesy of Lauren Carr, author of SHADOW OF MURDER
(Ends July 1)