Shadow of Murder By Lauren Carr Book Tour-A-Palooza- Twelve to Murder + Giveaway! {Ends 7/1/22}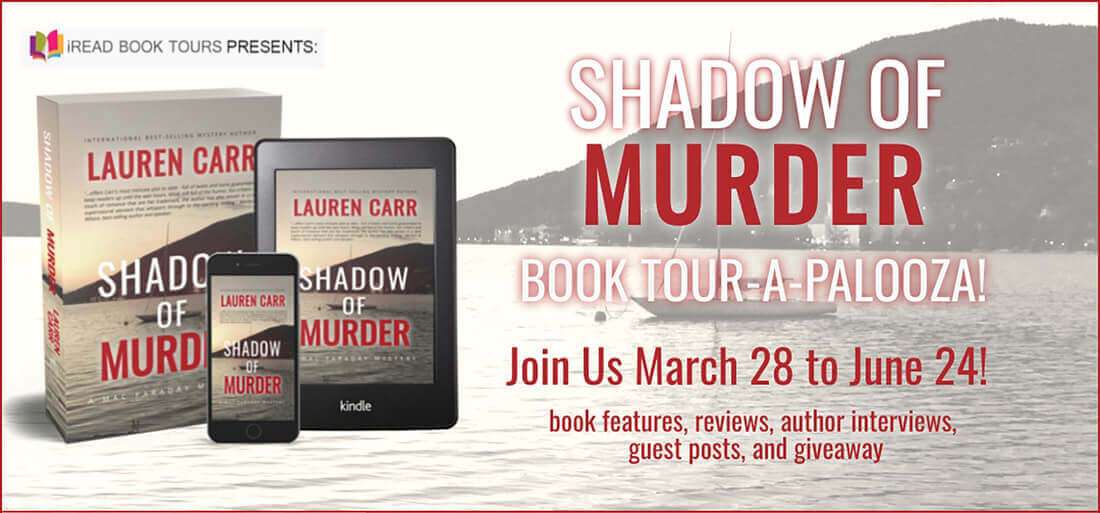 "This suspenseful book was filled with twists, turns, and lots of action! The Mac Faraday series is an amazing read for a mystery lover, but Twelve to Murder can stand alone if you have not read any other books in its series. Lauren definitely knows how to bring you into the story and leaves you wanting more!" – Review by Debbie Hill, Miss Book Lovers
Book Details:
Twelve to Murder by Lauren Carr
Series: A Mac Faraday Mystery (Volume 7)
Category: Adult fiction (18+), 266 pages
Genre: Murder Mystery
Publisher: Acorn Book Services
Release date: February 9, 2014
Format available for review: Audible download, ebook (mobi, epub, PDF)
Tour dates: March 28 to June 24, 2022
Content Rating: PG-13 – Lauren Carr's mysteries are murder mysteries. Sometimes, the murder does happen on-stage. There is no graphic violence or explicit sex.There is some very mild language (hell or damn, very few and far between) No F-Bombs!
* Click  on Book for More Details*
Book Description:
Mac Faraday's plan to spend a quiet weekend home alone with his lady love, Archie Monday, is shattered by murder.
A middle-aged couple are brutally murdered in their summer place on Deep Creek Lake. To any other detective, the case would be considered open and shut when it appears as if one of the victims has written her killer's name in her blood—not so for Mac Faraday, who believes there is more to this case than meets the eye.
In Lauren Carr's latest Mac Faraday Mystery former child-star and teen-idol Lenny Frost steps into a pub in Deep Creek Lake to see his face on the television over the bar with the announcement that he's wanted for the murder of his agent and her husband!
How does Lenny Frost react to this sudden comeback into the headlines? He takes everyone hostage and gives Mac Faraday twelve hours to find the real killer or he's going to kill everyone in the bar.
Will it be a fatal last call at midnight?
Review By LAWonder10:
Derek, a spoiled, privileged son of a retired famous talent agent, came to the vacation home of his parents, to stay with them for a while. After briefly conversing with a couple of neighbors, went inside briefly then screamed and ran back outside distraught. Trying to understand, the neighbor man went inside, quickly returning exclaiming the parents inside were dead. 
Mac Faraday and Archie were enjoying a weekend without Gnarly. After a disturbing conversation with Archie, his "special weekend" came to an abrupt halt with a call from David, needing assistance at a murder scene
In this saga of the Mac Faraday Mystery series, different scenarios are occurring but are so precisely written, that they are all very enjoyable and easily followed.
Mac is battling within himself to define his commitment and relationship with his fiance, Archie.
What seems to be a "cut and dried" murder case gets increasingly complicated. 
A "person of interest" and former celebrity creates a bizarre situation.
The FBI becomes involved and much more. 
The suspense and mystery keep increasing throughout the book, with sidelines of humor, further antics of Gnarly, and Mac's search to get in touch with his innermost feelings. 
Lauren Carr is a "master" at building suspense and mystery within each book, and still creates real feelings of everyday life and struggles most individuals deal with. In addition, she always adds humor and a little romance to complete her masterpieces.
I first read this book, then listened to the audiobook, performed by James C. Lewis. He did a very good job in bringing the story to life with consistency in his performance of several different human interactions. It was a challenge he successfully completed.
I offer a Five Stars rating for this book and for the Narrator.
*This audiobook was gifted me with no pressure to post a positive review. This is my honest review.
Other Books in the Series:
Meet the Author:
Lauren Carr is the international best-selling author of the Mac Faraday, Lovers in Crime, Thorny Rose, Chris Matheson Cold Case Mysteries, and Nikki Bryant Cozy Mysteries—over twenty-five titles across five fast-paced mystery series filled with twists and turns!
Book reviewers and readers alike rave about how Lauren Carr seamlessly crosses genres to include mystery, suspense, crime fiction, police procedurals, romance, and humor.
The owner of Acorn Book Services, Lauren is also a publishing manager, consultant, and virtual book tour coordinator for independent authors.
Lauren is a popular speaker who has made appearances at schools, youth groups, and on author panels at conventions.
She lives with her husband, and two spoiled rotten German shepherds on a mountain in Harpers Ferry, WV.
Author's Links: website  ~  facebook  ~  instagram ~ pinterest ~ bookbub ~ goodreads
About the Narrator:
James C. Lewis, an AudioFile Earphones Award winner, is a voice actor in New York City and can also be seen in television commercials. His voice is often heard as a hard-boiled detective, but his work for Tantor covers a wide range. Earlier in his career, he was a TV weatherman and a political reporter. James is originally from Oklahoma.
Giveaway Details:
Prizes: ​ $50 PayPal Gift Card courtesy of Lauren Carr, author of SHADOW OF MURDER (Ends July 1)